Gurez Valley Kashmir : Possibilities , planning and things to do.
Gurez Valley Kashmir Introduction
It is one of Kashmir's least explored regions and can truly be described as an offbeat destination. It is a stunningly beautiful location that does not receive the attention it deserves. The landscapes and natural beauty of the mountains that you will see here are unlike anything else you will see. Gurez was awarded the best off-beat destination by tourism department. 
When people think of Kashmir, they usually think of four places like Srinagar, Gulmarg, Sonamarg, and Pahalgam, but Kashmir is much more than that. Srinagar serves as a base for visiting to all the major tourist destinations. There are numerous other places here that will captivate you if you visit and Gurez is one such destination that you should visit if you are in Kashmir.
About Gurez Valley Kashmir :
Gurez, often spelled Gurais, is a valley in Kashmir around 126 kilometers from Srinagar. Tourist movement in the region was prohibited due to its close proximity to the border but from year 2017 it's open from tourists and since then good foot-fall of tourists has been seen especially from year 2020. Jammu and Kashmir tourism department has also made a lot of efforts and conducted many festival in Gurez this year named as Jashn–e-Gurez and Grand Gurez in year 2022.
Indian nationals can now come to Gurez Valley with valid government-issued identification (Aadhar card). Foreign nationals are still banned to visit the Gurez Valley Kashmir till date September-2022.
The valley is bordered by snow-capped mountains at an average elevation of 8,000 feet (2,400 metres). It has a diverse fauna and species, including the Himalayan brown bear and the snow leopard.
The Kishanganga River flows through the valley before joining the Jhelum River at Muzaffarabad, Pakistan. The only high-altitude pass between Srinagar and Gurez is Razdan-Pass also called as Razdan Top. The route is closed for around six months (November to April) of the year due to heavy snowfall over the high passes.
Dawar and Tulail (Tulayl) are the two divisions that make up the entire  valley of Gurez. Dawar is also Gurez's main township, and it is here all the maximum living, eating, and shopping of basic necessary things is possible.
Itinerary Plan For Gurez Valley Kashmir
You can see the tour plan in the next image for better understanding.
Day 1 : Srinagar -Bandipoa-Razdan-Dawar | 126 Kms | 6 Hours one way
Day 2 : Dawar-Tulayl-Badugam-Chakwalia- back to Dawar | 60Kms | 3 hrs one way
Day 3 : Dawar to Bandipora to Srinagar /Gulmarg / Sonmarg
A vacation to Gurez Valley might be scheduled for two or three days depending on time you have in hand.
For more information you can contact TRAVELMY KASHMIR. +91 9796-466052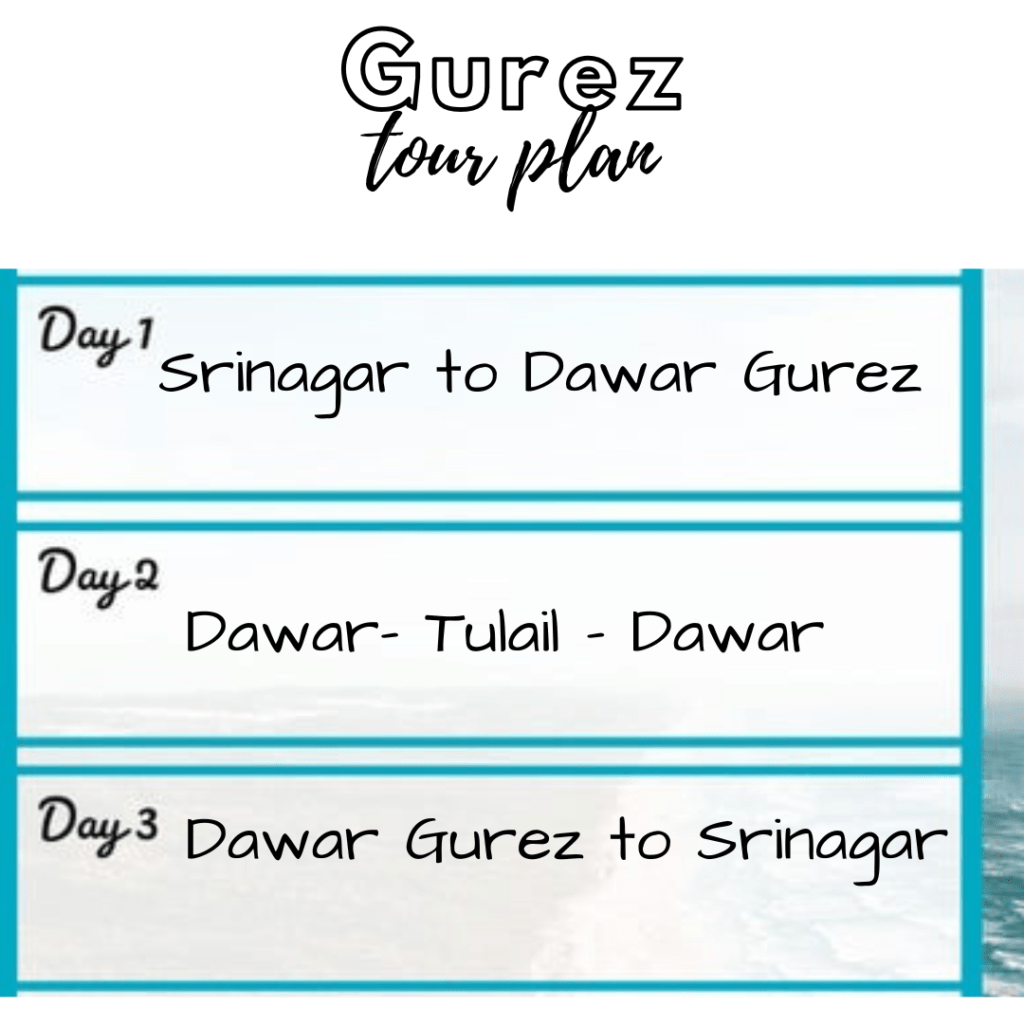 How to reach Gurez Valley Kashmir.?
Gurez Valley is open to the public from April to October only depending on the weather and road conditions. When the road is closed between November and March, the only route in and out is by helicopter from Srinagar or Bandipora.
The one can take a shared cab from Srinagar (Parimpora Bus Stand) to Bandipora and from Bandipora Bus stand to shared cab to Gurez (Dawar). The cost for the Shared cab for one person from Srinagar to Gurez will be  Read More